Crypto Market Analysis BTC, ADA, EGLD, ETH, JASMY - September 21, 2023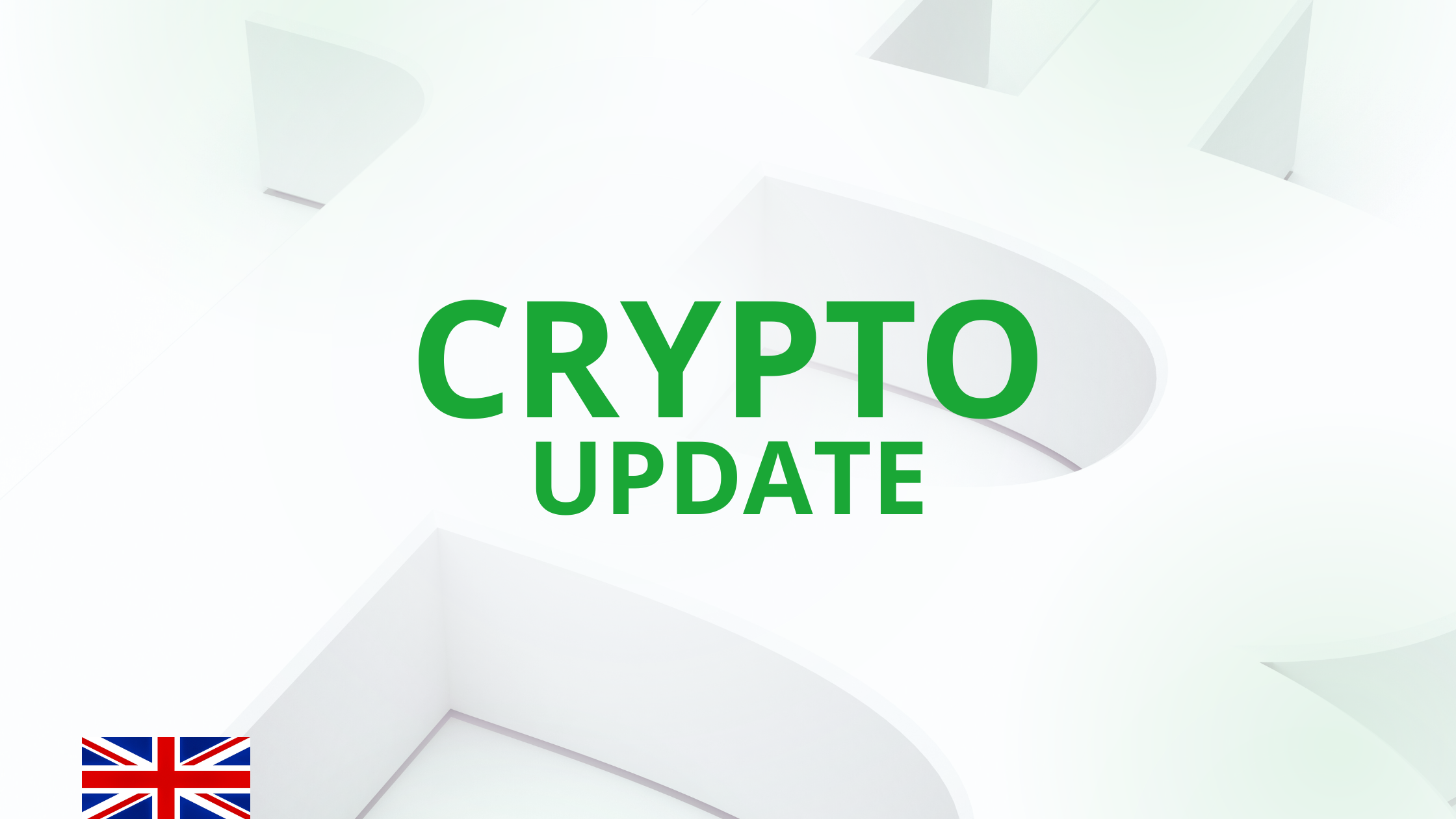 Crypto Market in the Last 24 Hours:
🌐 Global Crypto Market: €990.71B, -1.59% (24h)
💰 Total Crypto Volume (24h): €27.05B, +3.69%
💼 DeFi: €2.21B (8.16% of total volume)
💳 Stablecoins: €24.86B (91.90% of volume)
🚀 Bitcoin Dominance: 49.27% (+0.01%)
Bitcoin (BTC)
If you take a look at the weekly chart, you'll notice that it's been hugging a trendline, bouncing off it twice in the past. Typically, after the third touch, we've witnessed some pretty bullish movements.
It seems like history might be repeating itself. BTC has found support at this trendline twice again recently, and I have a hunch that it might revisit this line in the coming days. If it does, and history holds, we could be in for a bullish ride, potentially reaching levels between 59,000 Euro and 65,000 Euro.
Additionally, keep in mind that the upcoming halving event is just around the corner. Historically, halvings have often sparked bullish trends. So, there's more than one reason to keep an eye on BTC in the near future.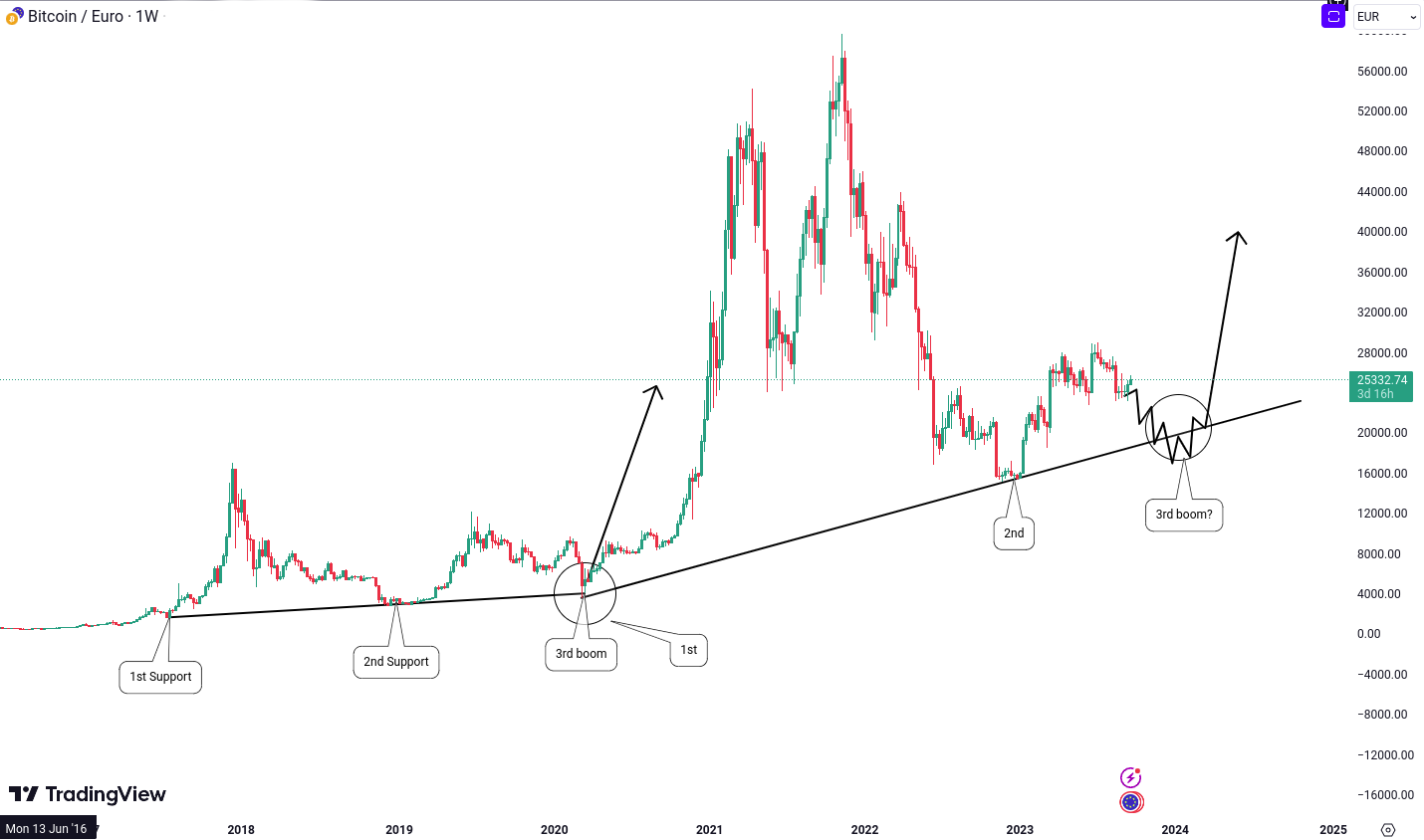 Ethereum (ETH)
It's currently finding support at the Fibonacci 0.6 level, which is a pretty robust indicator for potential bullish moves.
To confirm this bullish sentiment, we're looking for a breakout above the 1619 Euro resistance level. It's also key to keep an eye on that resistant trendline. If we see both of these barriers break, we could set our sights on targets around 1712 and 1765 Euro. So, that's definitely a chart worth watching.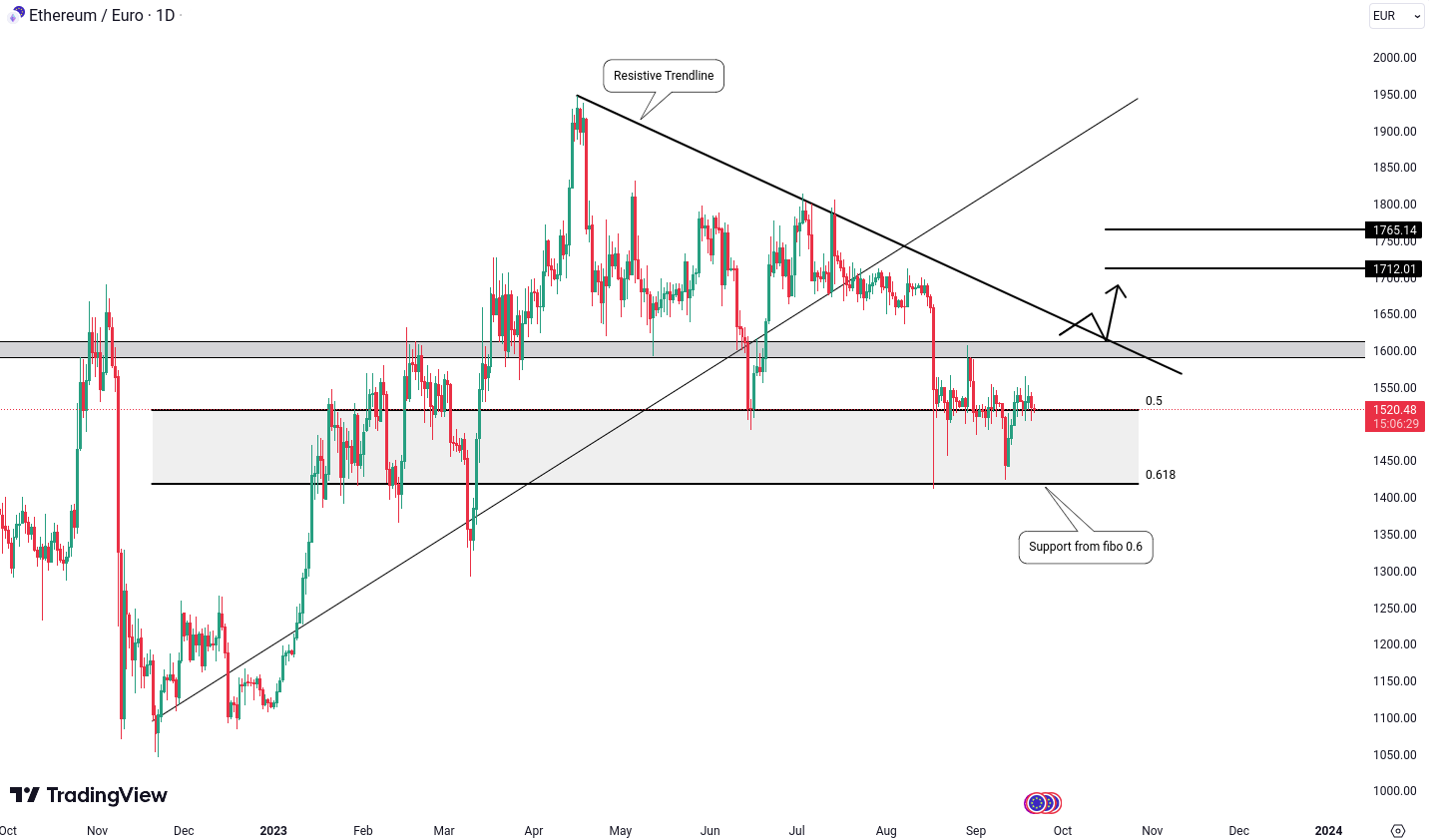 MultiversX (EGLD)
Currently, it's giving us some mixed signals. It appeared to break down from a triangle pattern but has retraced back under it which will be considered a fake breakout.
Right now, the price is hovering near the upper trendline. And if we check the MACD indicator, it's showing us some bullish divergence, which is a positive sign for potential buyers. However, we should exercise caution and await a clear breakout above the 30.00 level for stronger bullish confirmation.
If it manages to break this level, it could signify a strong move by the bulls and set the stage for targets around 33.09 Euro and 35.49 Euro.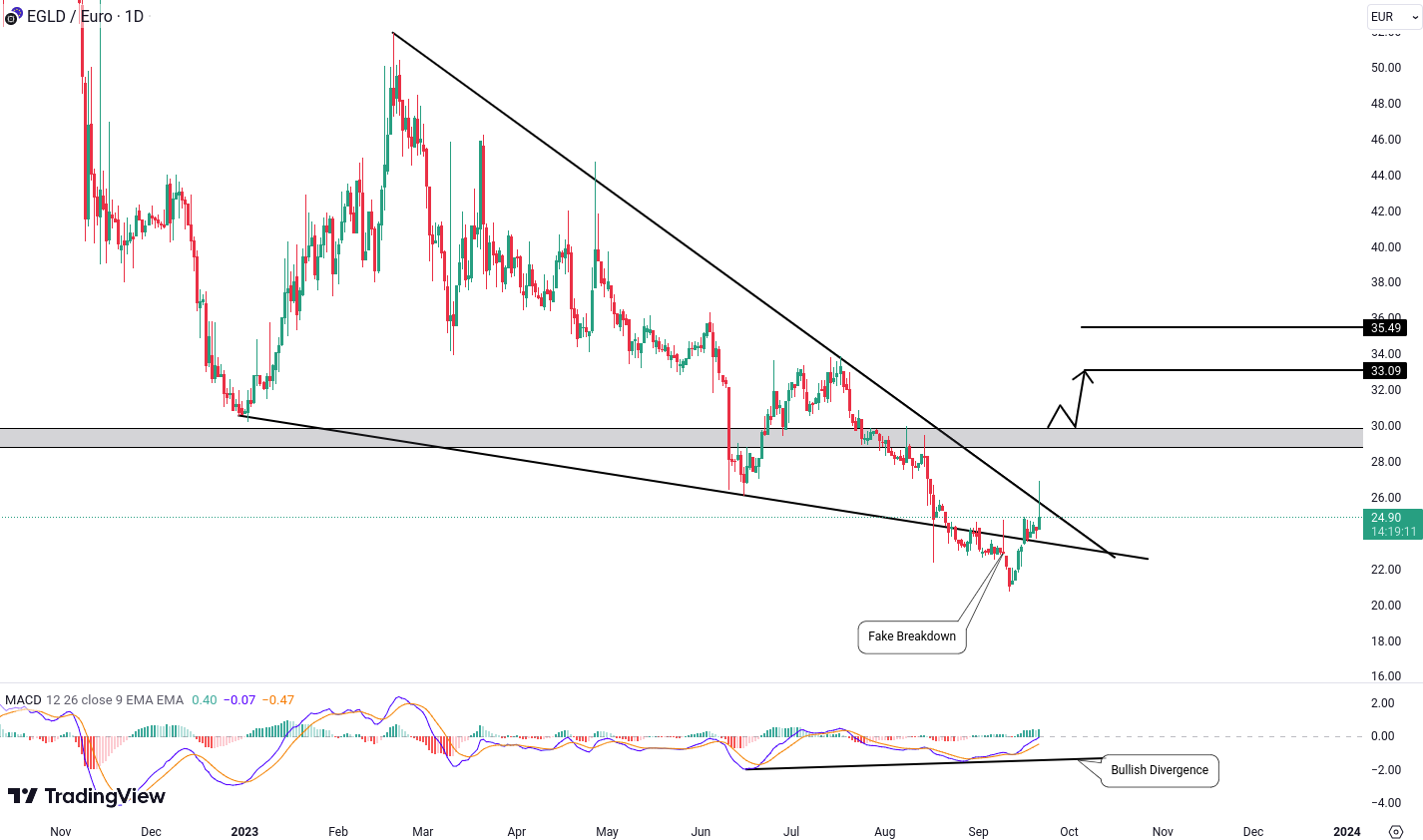 Cardano (ADA)
It's currently shaping up a pattern that resembles a triangle. On top of that, if we peek at the MACD indicator, it's signalling some bullish divergence.
As it stands, the price is consolidating within the confines of the supply and demand areas. If it manages to break out above the supply area, specifically the 0.2507 Euro level, we could potentially set our sights on targets at 0.2688 Euro and 0.2807 Euro.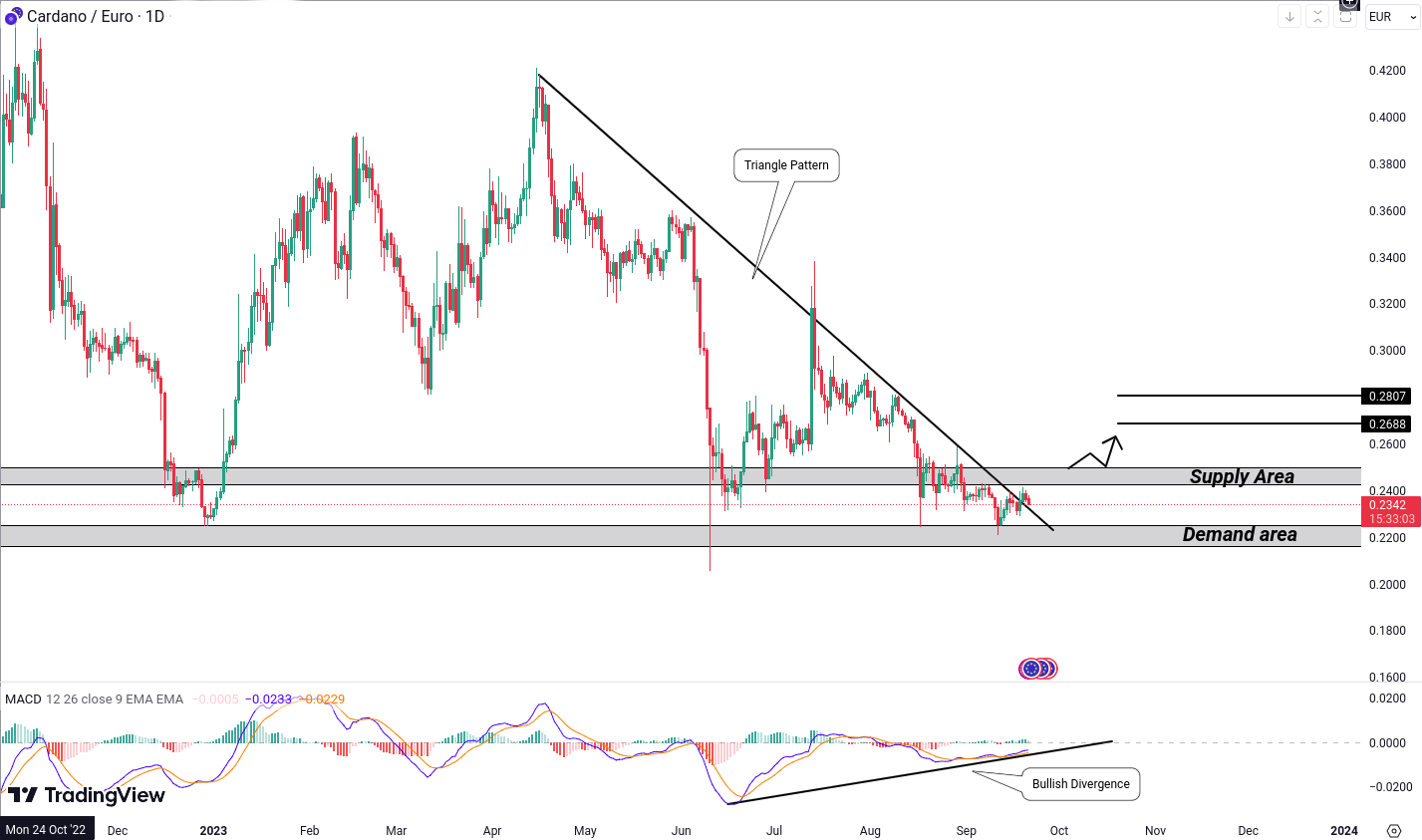 Jasmy (JASMY)
If we take a look at its daily chart, things are looking quite bullish. Here's why:
Firstly, we've found an inverse head and shoulders formation. This is typically a signal of a trend reversal, and in this case, it's signaling a potential shift from bearish to bullish.
Secondly, the MACD indicator is showing bullish divergence, which adds weight to the bullish case.
To solidify this sentiment, we'll want to see a breakout above the neckline and resistance area. In this scenario, a neckline breakout at the 0.00379 Euro level could pave the way for targets at 0.00403 Euro and 0.00423 Euro.