Exploring the Exciting Addition of Holoride (RIDE) on Tradesilvania!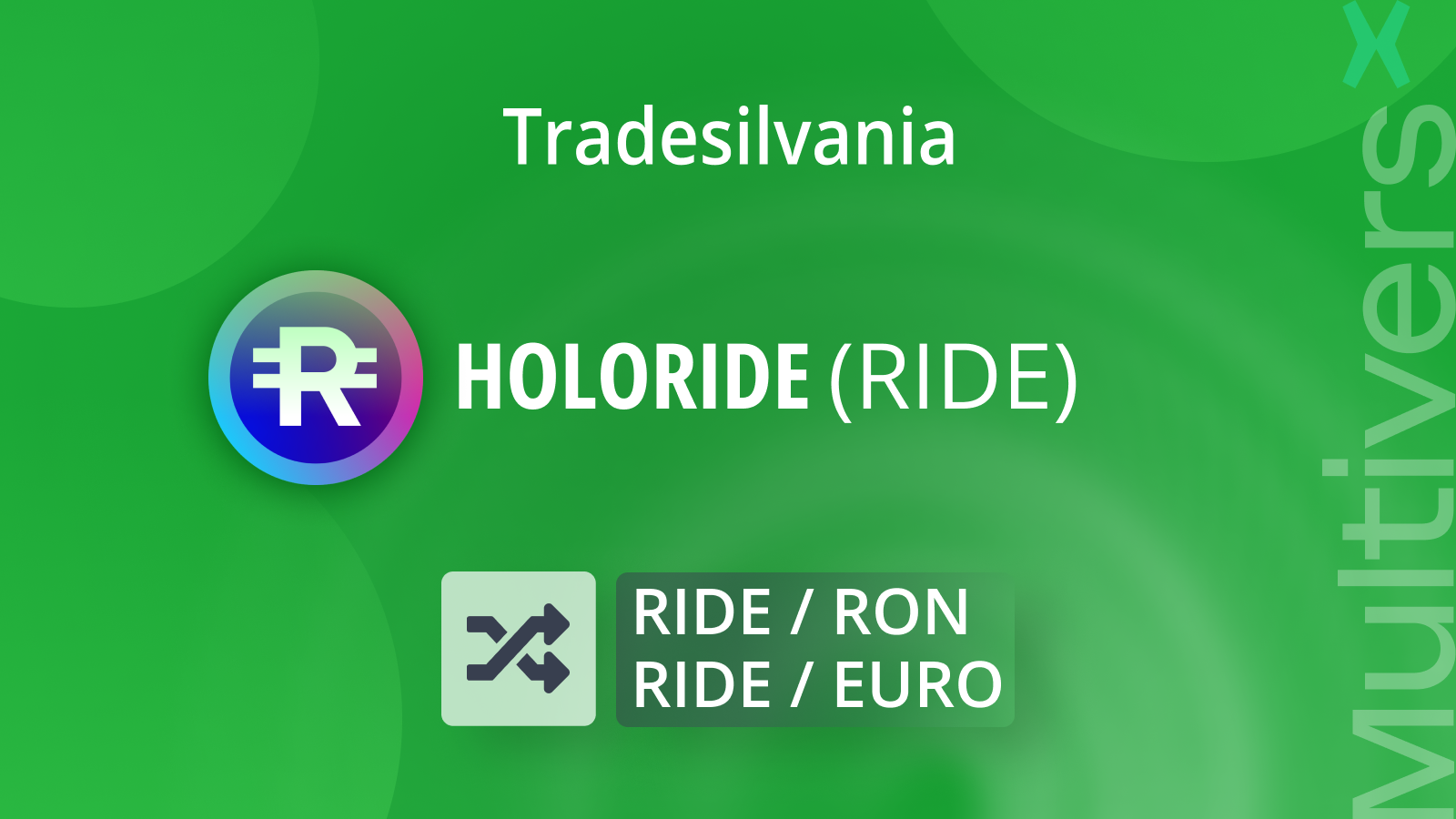 We're thrilled to announce the arrival of Holoride (RIDE) on Tradesilvania's platform, marking a significant milestone in the world of cryptocurrencies. The project's goal is to provide an immersive experience that combines driving, virtual reality and blockchain technology.
What is Holoride (RIDE)?
Holoride (RIDE) is a captivating project that has been garnering attention for its innovation and promise. Developed on the MultiversX platform, RIDE stands out as one of the most exciting ventures in the crypto space. Its unique blend of technology and potential has led to its inclusion on Tradesilvania's platform.
Why Holoride (RIDE)
Holoride's integration into Tradesilvania's platform aligns with our commitment to offering our users access to the most promising projects in the crypto industry. With the support of MultiversX, RIDE represents more than just a cryptocurrency—it embodies a vision for the future.
Start your journey with Holoride
The MultiversX Connection
Holoride's ties to MultiversX provide a strong foundation for its growth and development. As a forward-thinking platform, MultiversX has nurtured projects like RIDE, giving them the resources and environment they need to thrive. This collaboration amplifies the potential of RIDE as a long-term investment option
Innovative Features of Holoride (RIDE)
One of the standout features of Holoride is its fusion of virtual reality (VR) with blockchain technology. This groundbreaking approach not only enhances the security of transactions but also elevates the user experience. Imagine engaging in crypto transactions while being transported to a virtual world—Holoride is at the forefront of making this concept a reality.
Elevating Accessibility
The inclusion of Holoride (RIDE) on Tradesilvania's platform is more than just an announcement; it's an assurance of convenience. Users can now effortlessly cash in, transfer, and exchange RIDE tokens through our platform's intuitive interface. This seamless process marks a significant step forward in bridging the gap between users and their crypto assets.
In the dynamic world of cryptocurrency, integration isn't just about listings—it's about revolutionizing accessibility. The comprehensive support for Holoride (RIDE) on Tradesilvania's platform is a pivotal moment, one that will undoubtedly shape the trajectory of both projects. Tradesilvania's advanced ON-ramp solutions make it easier than ever for newcomers to join the Holoride (RIDE) project.
With a user-friendly entry point, we're enabling a wider range of investors to participate in a venture that blends technology and creativity like never before.