Prime Brokerage
We are your partner for digital asset transactions
Tradesilvania is an integrated solution that offers you custody solutions and an advanced trading platform through which you can manage your digital assets in a simple and secure way. Through an advanced technological system, constantly updated and by combining algorithms, Tradesilvania offers you the best execution and liquidity for the execution of orders.
The Tradesilvania team has a strict policy of listing new currencies and new projects on the trading platform, solid projects with a well-defined business model and sufficient liquidity to ensure a positive experience in the platform for clients and to ensure that clients' investments are in safety.
Trade with us
Trade manually via chat or phone
Trade automatically via web / mobile SPOT or API
Automated Trading
Through the software system developed by Tradesilvania, ATS (Automatic Trading System) Tradesilvania customers are guaranteed access to an innovative trading system that combines the advantages of Stop-Loss loss protection and at the same time the advantages of the Order Limit or Fill or purchase solution. Kill, TWAP and used in a hybrid way in the automated trading solution offer the advantage of automatic buying / selling in the platform in the most advantageous conditions.

Tradesilvania customers
We have experience with a wide range of clients:
Small and medium companies
Various regulated financial institutions
Companies listed on the stock exchange
Currency exchange offices
Tradesilvania app
Trading, Custody, Pre + Post-Trade, Savings, Reports, all in one account.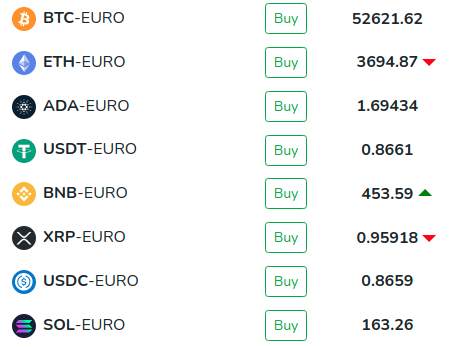 The best execution through Smart Order Routing
Get the best possible execution for your transactions at a low cost.
The best execution price

Reduced exposure

High liquidity

Detailed execution report

Extended trading history

OTC Trading & rapid RFQs
Conformity
The cryptocurrency exchange operated by the Tradesilvania platform takes place in an ecosystem of procedures and policies adapted to the latest European and international legislative requirements, which allows us to develop exchange services in a secure environment for all our clients, individuals and institutional clients.
Tradesilvania offers you popular tokens and cryptocurrencies, as well as the listing of new tokens and cryptocurrencies issued, offering an interesting and unique portfolio for the benefit of our users.