Limit orders
Buy or sell virtual currencies at your preferred price
The limit type order implies the launch of a sale or purchase order, its execution having a price established by you. Via this type of order you can estimate the price evolution so that the order is executed at a price that is as beneficial as possible, or at a limit price.
Limit orders have two execution stages:
Waiting period

(waiting until the market reaches the limit price)

Operational stage

(if the price conditions are fulfilled)
Add a limit-type order
1. Add a limit-type order
Add a selling or buying limit-type order by selecting the price at which you want it to be operated
2. Waiting for the fulfillment of conditions
The order is on hold until the selected conditions are fulfilled. You are able to delete the order as long as it hasn't started to be operated.
3. Order operation
After all conditions were met, the order will be processed. The amount of money added will be credited in your account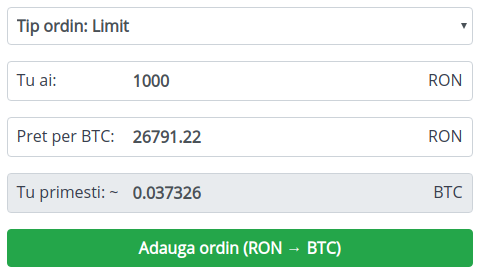 There are two types of limit-orders
The selling limit-oder

-you are able to specify the limit price from where the transaction in processed

The buying limit-order

-you are able to specify the limit price that you will pay