Polkadot price (DOT price live) - Polkadot price today
The displayed price is informative and does not represent the trading price.
Circulating Supply
1.25B DOT
Polkadot price graph for the last 24 hours show the price Polkadot crypto token variation (DOT) on global spot market. Buy Polkadot in your user account instantly with EUR at the best exchange rate.
Polkadot price evolution (DOT) - 1 month
Loading ...
Real time information about Polkadot Price
Polkadot price (DOT) today growth with -1.97% and exchange rate 1 DOT = 4.67 EUR. Polkadot trading volume in the last 24 hours of 167.08M EUR. Polkadot price variation in the last 24 hours was -1.97% and Polkadot total market capitalization is 5.90B EUR. DOT price in EUR is updated in real time in Tradesilvania account.
Polkadot price history table ( today , 1 day, 7 days, 30 days, 60 days ) with percent (%) growth DOT.
| Polkadot price | DOT exchange rate | DOT volume |
| --- | --- | --- |
| Today | 4.11 EUR | 181.29M |
| 1 day | 3.87 EUR | 175.00M |
| 7 days | 4.34 EUR | 239.58M |
| 30 days | 4.81 EUR | 175.57M |
Polkadot (DOT) is a software that develops a global network of interconnected blockchains. This network helps to create and support an infrastructure for complex decentralized applications (dApps). Polkadot allows the transfer of data and assets between different blockchains and facilitates interoperability between them. This can be attractive to investors looking to invest in blockchain technology and decentralized application development.
Polkadot cryptocurrency applications
Polkadot allows sharing the unique characteristics of each blockchain and initiating cross-blockchain transfers of any data or assets.

Another interesting aspect of Polkadot is the use of parachains. These are project-specific blockchains that are integrated into the Polkadot ecosystem. Parachains are parallel chains with their own runtime logic and benefit from the shared security and cross-chain messaging provided by the Polkadot relay chain.
Decentralized Finance (DeFi)
Polkadot's interoperability allows developers to develop decentralized finance (DeFi) applications that interact with different blockchain networks. This allows users to easily transfer assets between different networks, reducing transaction costs.
Games and NFT
The scalability and interoperability of Polkadot can be leveraged to generate gaming platforms based on blockchain and NFTs. These platforms can provide a seamless gaming experience, reduce fees for in-game transactions and provide interoperability with other networks.
Supply chain management
Polkadot's ability to connect different blockchain networks can also be useful in supply chain management. By enabling interoperability between different networks, supply chain stakeholders can easily track the movement of goods across different networks, improving transparency.
Polkadot Price (DOT)
Analyzing risks and profit potential are essential in any investment, including in the case of Polkadot and the DOT price. The increase in demand for DOT cryptocurrency, traded also outside the stock market, provides opportunities for investors to trade calculated and take advantage of price fluctuations and to obtain an advantageous DOT price for trading and buying on trading platforms.
What determines Polkadot price fluctuations?
DOT price fluctuations are influenced by a number of factors:
DOT demand and supply - the Polkadot cryptocurrency
In traditional economic concepts, if the demand is high, the DOT price will increase. Conversely, if the demand is low, the price of Polkadot will decrease. The demand for DOT cryptocurrencies is influenced by factors such as media attention, the state of the global economy and financial regulations.
Popularity and media attention for Polkadot cryptocurrency
The popularity of the Polkadot cryptocurrency is a major factor influencing the price of Polkadot. The DOT community around the project can significantly influence the perception of the average consumer on the crypto project. Simple curiosity about cryptocurrencies leads to high investments, which affects the price of DOT in the market. At the same time, the price is influenced by announcements from state authorities and companies in the field.
In general, the FOMO (fear of missing out) phenomenon can be created around the markets, which applied in the investment area, is represented by investors' fear of missing the moment of entering the market. To counter or avoid the FOMO effect on investment decisions, we recommend that you actively inform yourself and understand the real factors that can dictate the price of the Polkadot cryptocurrency .
The DOT economy and ecosystem
The economic risks of the states are another aspect that can lead to an increase in Polkadot's price. Especially in countries with high inflation, the population is turning its attention to new methods of protecting money, a fact that can influence the value of cryptocurrencies, including the value of DOT.
Polkadot cryptocurrency advantages

Scalability
The Polkadot project is designed to be highly scalable. It is able to manage several parallel chains, each with its own purpose and consensus mechanism. This provides increased efficiency and faster processing times, making Polkadot ideal for applications that require high volumes of transactions.
Interoperability
Polkadot can connect with other blockchain networks, allowing the exchange of data and assets. This feature allows developers to build applications that can interact with different blockchains, developing a more open crypto ecosystem.
Efficient governance
Polkadot's unique governance model allows users to vote on proposed changes to the network. This ensures that the network evolves in a decentralized and democratic manner, with decisions being made by the community rather than by a central authority. This feature helps increase transparency within the network, making it more secure.
Polkadot cryptocurrency history
The Polkadot (DOT) project was founded in 2016 by Gavin Wood (former co-founder of Ethereum), Peter Czaban and Robert Habermeier. At the same time, Wood participated in the development of the Solidity language, which is used for the development of decentralized applications.
Polkadot (DOT) has raised approximately $200 million by selling its native DOT cryptocurrency. The sales were organized with the help of the Web3 Foundation, a non-profit entity that received 30% of the funds generated from the sales. The organization, also founded by Wood, aims to use the funds to promote the development of Polkadot.
Polkadot (DOT) - Frequently Asked Questions (FAQ)

What blockchain does the DOT cryptocurrency use?
Polkadot uses its own blockchain, which is built on a custom version of the Substrate blockchain development framework.
How do I mine DOT cryptocurrency?
DOT cannot be mined because it uses the proof-of-stake protocol .
What is the limit of units in the case of the DOT cryptocurrency?
The DOT cryptocurrency has no unit limit.
What is the highest Polkadot price in EUR?
The highest Polkadot (DOT) price was recorded at EUR 46.
How can I buy Polkadot at the best price?
The fastest and most advantageous way to buy Polkadot is on the Tradesilvania.com platform at the live Polkadot price displayed in the Tradesilvania user account 24/7.
What is Polkadot price today?
The Polkadot price varies several times per second in the platform and the instant price is available in the user account. Daily purchase limit (DoT Limit Order is 1,000,000 EUR/transaction).
How do I buy Polkadot (DOT)?
You can buy Polkadot (DOT) through multiple Tradesilvania order types using Lei, Euro or USDT.
Create an account on the Tradesilvania platform simply in a few minutes
The first step to use the platform is to create an account. After confirming the account, you must go through an activation process.
RON or EURO deposit You can deposit RON or EURO in your digital wallet by Paying with Visa/Mastercard Card, Bank Transfer or cash at SelfPay points or Un-doi Payment Center.
Buy Polkadot (DOT)
To buy Polkadot you must access the Trading section and the dips parities
After you place an order, in most cases it is completed instantly.
Note: The Polkadot price varies over time.

Are you ready to buy Polkadot - DOT to build a crypto portfolio on the Tradesilvania platform?
Buy Polkadot (DOT) from your Tradesilvania account in a few minutes at the best price
Buy Polkadot (DOT) instantly in your Tradesilvania's account
Buy DOT now
What is the price of Polkadot?
Buy 1 Polkadot for a price of 4.67 EUR for today exchange rate of DOT - EUR only on Tradesilvania platform.
Are you ready to buy Polkadot to start building your crypto portfoliu in Tradesilvania platform ?
Buy Polkadot instant in Tradesilvania account at the best rate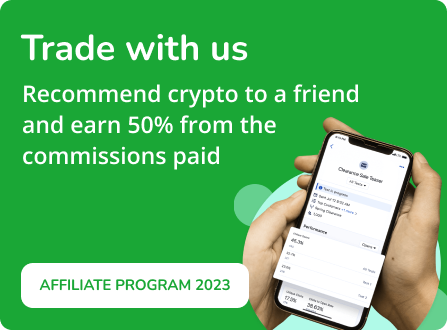 How to buy DOT
Our platform allows you to fund your account with EUR and RON instantly and with low costs. Use the IBAN transfer for a top-up with 0% commission.
DOT - RON - IBAN Bank Transfer

DOT - EUR - IBAN transfer (0%)

DOT - Visa - Instant EUR

DOT - Mastercard - Instant EUR

DOT - RON Self Pay Instant Top Up

DOT - RON un-doi - Instant Top Up

DOT - RON Qiwi (Start Pay) - Instant Top Up

DOT - EUR Skrill - Instant Top Up

DOT - EUR Neteller - Instant Top Up